I hate to tell you this kids but the cat is out of the bag...Real estate agents around the country have really woken up to the value of blogging and real estate content marketing in a BIG way.
What does that mean for you?
For starters it means that content is quickly becoming a premium commodity with increasing demands.
You already know what happens when demand is high and supply is low.
Not only is the price of real estate content about to hop on the supply & demand escalator, but costs for popular advertising platforms like Facebook Ads are about to sky-rocket beyond being affordable for the average joe!
So now what?
What this means is that now is the time to "go all-in on your content" as advised by marketing Gurus like Gary Vaynerchuck (currently on the cover of Entrepreneur Magazine).
But not all real estate content is created equally.
You need to be crafty and calculating with your content strategy!
To help you maximize your ROI, I am sharing with you several types of real estate blog posts my clients and mega agents use to generate serious web-traffic, leads, and conversions.
How-To Guides
How-to guides are one of the best ways to help your prospects begin to view you as a real estate expert.
Because they offer great value for your clients and prospects, you will want to use these often. Be sure that your how-to guides are branded with your company colors and logo and are print-friendly.
One of the best ways to stay in the forefront of your clients' minds is to create the type of (branded) guide that they will want to stick on their fridge.
For example, a first-time homebuyers guide is always a popular tool for capturing the attention of prospects.
Just be sure that the majority of the downloads or guides that you are offering are carefully designed and written to help you capture your ideal clients and are very specific to them.
The best way to do this is to complete a detailed customer persona or profile for your ideal customer so that you know exactly how to tailor your messaging to increase engagement and conversions.
If you need help creating a profile of your ideal clients please feel free to email me and I will send you my worksheet that makes the process super simple.
Real Estate Countdown Lists
Count down lists are known for their bad-ass ability to garner serious web traffic. They are also fun way to break up the monotony of your regular long-form blog posts and introduce a bit more diversity into your blog.
Titles like "Top 19 Reasons Why First-Time Home Buyers Are Moving To San Antonio" or "7 Secret Sexy Beach Spots In The Florida Keys" are seriously powerful traffic tools for your website and will help to grow your email list at lightning speed when implemented correctly.
Try to be as creative as you can and make sure that you are keeping things local.
Countdown lists are also an easy way to plug a ton of local businesses that will be likely to share your posts and help you extend your reach even further. An example could be "11 Wacky Portland Coffee Shops That Will Really Perk You Up".

Anytime that you are featuring local businesses like this, be sure that you are reaching out to the owners and management staff so they are aware of the fact that you will be marketing them on your real estate blog.
You may even want to include quotes from owners, staff, and managers willing to provide one to make your blogs even more personalized and connected to the community.
Local Market Updates
One of the best ways to conduct digital farming is to produce regular market updates for your blog, vlog, podcast and your mailing list.
Market updates give you the opportunity to reach out to your contacts with insightful information that is relevant to everyone that already owns property in the area and anyone considering buying in the future.
Writing and posting regular local market updates also perpetuates the perspective that you always have your finger on the pulse of real estate in your area.
**Hint** Your local Realtor Association or MLS publishes all of the stats you need to make these each month/quarter. Simply translate the graphs and stats into a blog article format.
Make sure that you are doing these local market reports for every neighborhood that you are farming and perhaps even those surrounding.
Market updates do not need to be complex. However, the more detailed you can be and the more insights that you can provide, the better.
Once you have created your real estate market update blog post, you can double-up your real estate content by creating a video in which you go over the summary.
If you have a podcast, it would be wise to create an audio version as well to super-size your SEO and maximize your ROI (return on investment)!
Some of my clients are also creating audio market updates in preparation of launching them with Alexa Skills.
Just imagine how powerful it would be to have everyone in your farm area waking up and starting their morning with an audio report from you about everything happening in the local market or just a general real estate tip!
Reviews of Local Businesses
This is one of the most overlooked types of content by real estate agents but happens to be one of my favorites!
You real estate hustlers and bustlers are constantly shopping, eating, and drinking out at local establishments with and for your customers - kudos by the way. You probably already know you can write all of those receipts off, but did you know that all of those outings could be a great way to grow your business through blogging?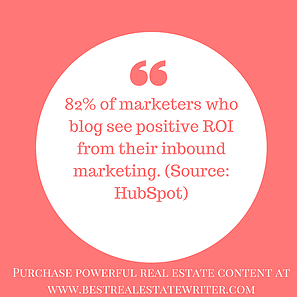 All you have to do is speak with the manager or owner of those establishments, and ask them if they would be open to having you (a well-known local real estate expert) publish a favorable write up of their business and publish it to your social media.
Odds are they will be pumped for that free publicity! The benefit for you? There's tons but here are a few:


Your article will get attention (and web traffic) from the locals that also love that place or have been thinking about going.


You will have share-worthy, local-centric material to boost your website's SEO.


Local business reviews are perfect for digital farming.


You will likely gain a powerful referral source from that business owner who will be grateful for the free publicity.


The business will also be happy to help promote the article through their social media platforms or on their website which will also help to promote you!


This is one of the biggest concepts I work on with all of my clients. Although it might sound like a lot of work, it actually only takes a few moments of your time.
In order to make things as easy as possible I give me clients a simple interview form to gather all the important details each time they visit a local business.
Home Design & Decor Advice
Pinterest junkies are obsessed with content about designing and decorating a home! This is yet another fantastic way for you to help home buyers and sellers find and fall in love with you.
You don't need to be a Home & Garden contributor to be able to write this type of blog post. However, you will need to be able to spend some time on research.
Take the time to look into current trends and tips and try to keep them relevant to buying and selling real estate so readers don't forget the point. In other words, don't just write about decor tips that have no way of collecting valuable leads.
Here are some examples of home decor titles that will actually help you attract targeted buyers and sellers to your real estate blog:


"How to Decorate Your First Home on a Budget"


"4 Ways to Update Your Home's Decor to Sell it Fast!"


"2017 Decor Trends on Luxury Home Buyer's Must-Have Lists"


Video & Audio
If you get nothing else from this article, please understand this: VIDEO & AUDIO CONTENT IS THE FUTURE!
If you do not already have a library of branded videos and audio in which you are discussing all of the topics that you discuss in your blog, you are behind!
Creating video and audio posts like a vlog and podcast, is one of the easiest and by far most powerful ways that you can get traffic and actually convert leads.
This is because both audio and video are far more personal that text. These mediums are better at translating emotion and make you an actual person so your prospects feel a stronger connection to you and trust you.
All you have to do is double-dip with the real estate content you already have. Take your real estate blog posts and content marketing materials and translate them directly to your clients and prospects in audio and video.
Don't worry, these don't have to be perfect! In fact, if you mess up a bit, just laugh it off and keep going. Those little mistakes actually work in your favor to make you more likeable.
Important Takeaways
Gary Vaynerchuck, Tom Ferry, Tony Robbins, and Warren Buffet all agree that creating valuable, original content is not an option in the current or future economy if you want to survive the impending economic and technological shifts.
The longer you put off building your real estate content library, the closer you grow to the end of your real estate career.
Your competition is already hard at work to surpass you in content creation so that all future buyers and sellers will automatically find them when searching for a real estate agent.
If you are somehow lucky enough to live in a market that has little real estate content competition, you better take swift advantage of that lead and capitalize on the opportunity to seize the market.
As more and more Fortune500 companies catch on to the fact that content is truly king, and social media is the best way to market it, the cost for creating and marketing said content continues to rise.
One day (soon), small and average sized companies will be priced out of being able to buy large quantities of content from a quality real estate writer, as well as, Facebook.
In fact, Inman is already reporting that by the end of 2017, the price of Facebook Ads will have risen dramatically with continuously decreasing ROI.
You simply can't afford to wait.
Ready to start building your real estate content library and generating leads with your real estate blog?
Email me and let me know how I can help!