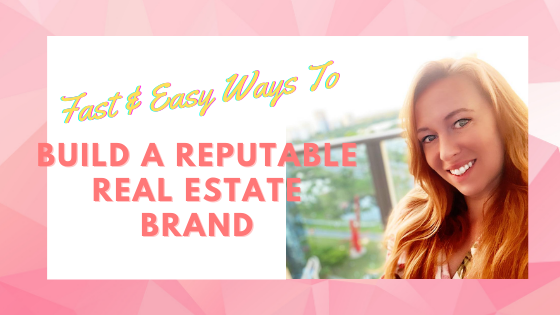 I want to start off by first making myself exceptionally clear: no truly successful brand was ever built overnight. This is a long play, not a short one and it will take some patience on your part.
That being said, there are some quick and simple tasks that you can incorporate into your daily, weekly, and monthly routine to become more recognizable.
More respected.
More revered.
Of course, just like with anything in real estate you will need to be consistent to see results but everything I am including in today's guide is tried, tested, and true.
Whether you are a real estate agent, property manager, broker, developer, investor, or any other type of real estate professional that Is struggling to build your brand on your own this post is for you! But it is a pretty long one so make sure you Pin and bookmark it so you can come back for easy reference!
Be More Proactive In Collecting Reviews
One thing that many real estate entrepreneurs or entrepreneurs in general really struggle with is collecting reviews and testimonials from clients, referral partners, and connections.
I understand that it can feel uncomfortable asking someone to endorse you. Especially, if that person is a client that just helped you deposit a check into your bank account. However, I want you to reframe the way you think about asking someone to leave A review for you.
Rather than thinking of testimonials and reviews purely as a favor done for you, think about it as a way for you to better serve your clients and as a way for them to tap into their natural human desire to speak up about their experience. Word-of-mouth used to be delivered primarily person to person but now it's done online and people love being a part of it. That's how and why companies like Yelp and Trip Advisor exist in the first place.
One of the many systems that you need to implement right away as one to help you consistently collect reviews and testimonials from people in your network, as well as, clients.
Did you send someone a referral?
Ask them for a review.
Every time, too! It doesn't have to be something major. It can be as short and sweet as something like "Just got another referral from Joe Smith who is all about helping wherever he can! Thanks Joe!" Pair that with another 5 stars and watch how your reputation and awareness grows!
Did you offer up some free advice about real estate to a friend?
Ask them for a review.
Did you go on a listing appointment but didn't get the listing?
Ask them for a review.
Don't be afraid to ask for reviews from people every single time that you have an interaction with them during which you deliver them some level of value. If you don't feel comfortable doing so then it may be an indication that you aren't delivering enough value to be deserving of the business that you're seeking.
Where Should You Post Your Reviews?
This is a really popular question on the boards in groups out there that I'm seeing more and more. I think people get confused about the role reviews play in SEO which is why they try to build up testimonials in just one area when it's important to have a consistently strong presence everywhere.
Your Website
If you don't already have your own website you need one STAT!!!!!!! Hit me up if you need help and I'll walk you through the ins and outs of what you need and what you should pay.
From an SEO perspective, it's imperative that your website and Google reviews are your top two priorities in terms of the platforms where you collect reviews. Ideally, you would use a service or software like I do that captures all of your leads from every platform and then displays them in a feed on your website.
But again, your website is crucial to having a reputable brand and business because anyone that doesn't have one in this day and age basically has no brand at all. Websites and a professional FB page are more important than your fucking business cards!
Your Marketing Materials
If you are using various print marketing materials like a buyer's welcome guide or listing presentations, they should also include relevant, up-to-date, and well-rounded reviews from clients that display the attributes that are most appealing to the clients you're trying to close.
Don't be afraid to change those out every time in order to speak to the individual you're trying to sell yourself to.
Google
Google is an extremely important place to be building out your reviews because that is going to empower your site and business to show up in more search results. Your reputation on Google matters more than any other site that collects reviews for this reason. therefore, if you can only collect reviews on one site I insist that you make Google your priority.
Local SEO Sites
While Google is by far the most important site from an SEO perspective, there are plenty of other local SEO sites like Yelp that can also play a big role in your SEO. Obviously, it can be difficult to collect reviews everywhere which is why I would suggest that you pick one or two as your top priorities. However, at the very least, you need to make sure your website and business are registered on as many of these sites as possible.
Social Media
Reviews are social proof which means they are an important ingredient in your social media strategy. Too many people underestimate the power of LinkedIn and I hope you won't be one of them. LinkedIn actually has a feature designed to help you collect reviews and testimonials from your connections whether you have actually had a person as a client or not. In fact, you should be reaching out to a minimum of 5 people per week that you have provided value to seeking a recommendation or endorsement.
Furthermore, you need to be sharing the reviews and testimonials that you collect from one platform across all of the others. For example, if someone leaves you a raving five star review on Google you should capture that image or create a branded graphic with it using Canva and then share it across all of your social media profiles to capitalize on that social proof.
Here is an example of how I repurposed a recent review and shared it on social:
Email Newsletters
Your email newsletters are a terrific place to both collect and display reviews that you've already received. From time to time, don't be afraid to spark some engagement from your readers by asking them to provide you with some feedback and then leveraging that feedback in the ways we've already discussed. Additionally, it's always a good idea to leave at least a few positive reviews somewhere in your newsletter to remind people that you are known, liked, and trusted by people just like them.
Real Estate Platforms
Now I know that many of you are concerned about building up your reputation on websites like realtor.com or Zillow. I want to stress to you how important it is that you don't become dependent on these platforms for leads in any way shape or form. However, I can't deny the fact that it wouldn't hurt for you to collect at least 5 to 10 reviews on one platform that matters most to you. Do not waste your time trying to build up your profile on one of these sites when the objective is to get them on your website!
Build A Local Facebook Group For Your Niche
You guys I can't even decide where to begin when it comes to getting you to understand how massively profitable having a Facebook Group for your niche can be!
You see, there is a big misunderstanding out there about the difference between Facebook pages and Facebook Groups. Facebook pages are basically like a billboard or a business card and the algorithms are not designed for them to elicit any kind of real engagement or interactions from people. In fact, they barely ever show up on people's feeds. However, you must have one that is regularly populated with fresh content for those times when people come looking to see how tech-savvy you are; perhaps after a listing presentation.
Facebook Groups however are expertly designed to spark engagement because they're all about building and fostering community! Now, mastering them is a whole other topic which you can read about here.
But the point I want to make today is that they are a valuable place for you to build social proof, connect with your ideal real estate clients in a meaningful way, and continue to share your success stories.
They are also the perfect place for you to show off everything that sets you apart from the competition and everything your brand stands for! For example, in my FB Group Blogging For Real Estate Leads (by the way I'd love to have you) I often tell stories and share my thoughts on my four brand values: altruism, honesty/self-awareness, gratitude, and empowerment.
These posts not only get people engaging with me it continues to build my brand awareness and shows my tribe what me and my business stand for.
It gives them the chance to relate to me on a more human level.
It makes them trust me.
That's the whole idea here right?
So gather all of your branding materials and begin mapping out a content calendar full of stories, tips, and deliciously engaging posts that your niche will gobble up in your own Facebook Group and if you don't have any idea how to get started with all of that just let me know and I'll help you out.
Establish Consistent & Cohesive On-Brand Training
If you have any aspirations of ever having your own team or becoming a broker and opening your own office or perhaps already have then you're going to need training content that ties in tightly with your brand and brand messaging. What I mean by this is that you need to have training materials that teach your team how they can be successful in each of their own niches while upholding the values and principles of your brand.
Stick with me for a moment while I paint you a little picture of how important it is to train each of your agents on the brand in order to protect your brand image and reputation in the communities where you want to sell.
Let's say you've started your own real estate brokerage and you've got 10 agents under you currently. In an effort to continue your growth you decide to hire on an additional five agents. Your goal is to become known as the most tech-savvy boutique brokerage in your community because you know that although people value people buyers and sellers consistently rate advanced technology and their top three priorities in NAR's annual report.
Because you don't have formal training materials in place that has been custom fit to your brand and brokerage, you allow the agents to go out and generate leads anyway they wish. Your new agents go out and start targeting FSBOs and expireds by cold calling, door knocking, and sending out direct mail. Within the time span of just a few months your brand can be decimated because you're seen as the dinosaurs that are trying to sell real estate like it's 1985 rather than 2021.
This is why more and more brokers are hiring me to write and design all of their branded training materials! It simply costs way too much and poses too much of a risk to have one or two agents running around town ruining your reputation or operating in a way that isn't in alignment with your brand. That's something you may never be able to recover from.
Partner With Local Businesses To Create & Cross-Promote Content
This is a message that I have desperately been trying to deliver for the last five years. My friends, there is an incredibly easy way for you to grow organically and build valuable connections with the people in your community that are shaking hands and kissing babies with the people that you most want to attract. There are local business owners and influencers that everyone turns to for one thing or another in your area.
Just because you work in real estate does not mean that you can only talk about real estate. Farming today is about creating overwhelming amounts of content that are both valuable and hyperlocal.
Picture this; your niche is downtown condos which you primarily sell to single people on the career climb. So to attract them, you go around recording interviews (both video and podcast) with the mom-and-pop businesses in downtown and talk about how they can improve the lifestyle of the people living there. For example, you do a series on the best restaurants to grab a great bite downtown on a workday lunch break.
Once you create that content, you have the business owners, managers, and staff share the content to their followers while also sharing it in your hyperlocal FB Group. That's FREE marketing my friend and for very little effort!
Find Local Influencers
Although it was like pulling teeth there for a while, most of you now realize just how beneficial and important it is to build up your content and following on Instagram. However, many of you are still struggling to make any significant progress.
One of the best ways to have a dramatic overnight success with Instagram is to collaborate with local Instagram Influencers.
Influencer marketing has become one of the most effective ways to build brand awareness, increase exposure, and attract new clients. However, many real estate agents and businesses are either unaware of the potential of Instagram influencer marketing or have no idea where to begin with it.
When you partner with an IG influencer, you can skyrocket your following overnight! As Instagram is one of the most popular platforms for middle-aged and Millennial adults, it is extremely important that you build a powerful presence there.
The influencers you choose need to have a strong following either locally or in your niche. Let's stick with our last example and assume you're targeting young professionals looking to buy condos in your metropolitan downtown area. You should look for young professional influencers in the area and reach out to do an interview or take a picture together where you can discuss something valuable to your audience.
Create Funnels That Help You Keep In Touch
One of the reasons that it takes so long to build up a reputable brand is that people need to see, hear, and understand it many times over before it becomes truly recognizable to them.
Therefore, they need to be exposed to your brand and what it stands for on a very consistent basis. Newsletters and funnels are pretty much one of the easiest and most practical ways in which you can introduce someone new to your brand and integrate them into your audience of loyal followers.
Just make sure that the funnels themselves deliver serious value to the point where they are eager to open your emails; not report them as spam.
If there is one thing that every single real estate brand has in common it is the desire to be seen as a resource rather than a sleazy sales pitch which means your content must be fresh, specific, and tailored to the audience in a voice that keeps them coming back for more.
Get More Connected With Your Contacts
One last way in which you can continue to build your brand awareness pretty easily and quickly is to start cross promoting your platforms. What I mean by this is let's say that you are trying to capitalize on the TickTock trend right now. You need to start promoting the fact that you're on TickTock and have valuable content that people can't enjoy anywhere else on TickTock by sharing that to your Instagram, Facebook, and LinkedIn. The key here is to again remember that you need to be posting content that makes sense to the native audience of each platform. People won't want to follow you everywhere if you're just serving up the exact same content. Tell them where they should follow you and why and watch your audience and brand grow with consistency.
Unleash The Power Of Your Real Estate Brand
If you are struggling to either develop a brand that magnetically attracts your ideal real estate clients, whoever they may be, or simply don't have all of the time it takes to develop branding materials and get them in front of the audience you're trying to grow we need to talk.
You're never going to be able to sustain or scale your real estate business without this key component and ignoring the issue will only make it more expensive to correct down the line.
So save yourself a lot of time, research, headaches, and money and book a free strategy call with me here so I can help identify where you need help and the best way to get you the results you desire. You're just one call away from getting the brand you've always dreamt of having.